Reducing Variability and Cost:
The LEAN6™ toolkit contains 24 Six Sigma Excel worksheets to systematically reduce variability and defects, significantly boosting quality and sigma level. 
The LEAN6™ toolkit includes spreadsheets for Six Sigma project charter, failure mode and effect analysis (FMEA), quality function deployment (QFD), control charts, quality cost calculator, templates for sampling, hypothesis-testing, system evaluation, and process optimization. Use those templates to analyze improvement potentials, predict population parameters, validate assumptions, improve quality and efficiency. The simple structure of the LEAN6™ Six Sigma worksheets make them intuitive and user-friendly. Practical application examples help first-time users to get familiar with Six Sigma tools and techniques. Start reducing variability and boost quality with LEAN6™.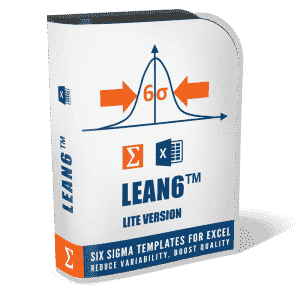 The Lite version is free, contains basic worksheets:
FREE Cause and Effect Diagram Fishbone | Excel
FREE Control Plan Template | Excel
FREE Correlation Analysis | Excel
FREE Data Collection Sampling Plan | Excel
FREE Failure Mode and Effect Analysis FMEA | Excel
FREE Hypothesis Testing Calculator | Excel
FREE Probability Distribution Calculator | Excel
FREE Probability Tree Calculator | Excel
FREE Process Framework SIPOC | Excel
FREE Quality Function Deployment QFD | Excel
FREE Quality Processes Overview | Excel
FREE Regression Analysis Calculator | Excel
FREE Sample Size Calculator | Excel
FREE Six Sigma Process DMAIC | Excel
FREE Six Sigma Project Charter | Excel
FREE Six Sigma Tools Overview | Excel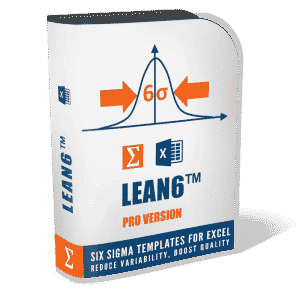 The Pro version contains advanced worksheets:
FREE Cause and Effect Diagram Fishbone | Excel
FREE Control Plan Template | Excel
FREE Correlation Analysis | Excel
FREE Data Collection Sampling Plan | Excel
FREE Failure Mode and Effect Analysis FMEA | Excel
FREE Hypothesis Testing Calculator | Excel
FREE Probability Distribution Calculator | Excel
FREE Probability Tree Calculator | Excel
FREE Process Framework SIPOC | Excel
FREE Quality Function Deployment QFD | Excel
FREE Quality Processes Overview | Excel
FREE Regression Analysis Calculator | Excel
FREE Sample Size Calculator | Excel
FREE Six Sigma Process DMAIC | Excel
FREE Six Sigma Project Charter | Excel
FREE Six Sigma Tools Overview | Excel
PRO Confidence Interval Calculator | Excel
PRO Cost of Quality Calculator | Excel
PRO Design of Experiment Full DOE | Excel
PRO Design of Experiment Saturated DOE | Excel
PRO Gauge Repeatability and Reproducibility GRR | Excel
PRO P-Control Chart Template | Excel
PRO Sigma Quality Calculator | Excel
PRO XbarR Control Chart | Excel