Managing performance is key to business success: plan resources, track progress, tackle gaps, and coordinate activities to maximize what matters most: Results!
In this training course you will learn how to build and operate a performance-management system (PMS) for your organization. As a certified performance-management professional (PMP), you will be able to set up metrics and systems, and lead your team through the planning and adminstration process. Watch the video to get an overview, what systematic management is and how it works.
Lack of performance, discipline, consistency
Persistent gaps, unmet expectations
Disappointed customers, leaders, investors
Managers and team leaders
Functional specialists
Anyone responsible for people or assets
Online training course with personal coaching support
Build management system to consistently meet targets
Learn proven management practices to sustain success
Status and recognition as performance manager
System to consistently achieve challenging targets
Solid performance, feeling proud and accomplished
What Is Performance Management and Why We Need It?
Managing performance is essential for business, ensuring goals and objectives are consistently being met by aligning people, processes, and systems. PM covers planning, monitoring, reviewing, and evaluating the performance of organizations, teams, suppliers, employees, and contractors. It requires agreeing to objectives for a period and reviewing the completion of those objectives at the end of the period, resting on the simple principle that "what gets measured gets done". Yet in too many companies, the system slow or broken, causing firefighting, efficiency losses, unhappy customers, and eroding margins.
Top performers know and do better. They have designed and implemented a robust management systems so that the entire organization operates from a single, verified version of the truth, allowing all employees to understand the organization's overall performance and how they have contributed to it. Additionally, the management dashboard highlights potential problems, allowing managers to take quick actions to solve deviations (defects, delays) to keep the business on track.
The performance management system (PMS) creates a cascade of metrics and targets, from top-level strategic objectives down to the daily activities of frontline employees. Managers continuously monitor those metrics and regularly engage with their teams to discuss progress and issues. Good performance is rewarded, while underperformance triggers actions to address underlying problems by applying problem solving skills. The scope of the system goes beyond employee appraisal, covering not only human resources but all producing assets, and even extends to the management of customers and vendors.
The Performance Management Training is for managers and supervisors to define key performance indicators, standardize measurement & management processes, implement daily meetings (scrum), develop a performance mindset, and set up the system to maximize overall results.
Top 25 Symptoms of Performance Management Failure
At best, a broken management system causes some efficiencies losses. At worst, it will paralyze and eventually destroy the company by not effectively responding to changes in technology, evolving customer needs, and increasing competitive pressures. The symptoms can be seen in many areas:
Persistent gaps, missed targets
Delayed plans, missed milestones
Budget overruns
Increasing staff turnover
Firefighting
Frequently-changing priorities
Success dependent on individual heroics
Efficiency losses

Poor quality

Unpredictable results

Lack of standards
High variability
Processes undocumented
Outdated standards
Lack of metrics, unclear status
Unhappy customers
Eroding margins
Project scope creep
Meetings without firm agenda
Chasing the next best thing
Supply chain slips, shortages, overstock
Too many cooks or not enough in the kitchen
Unclear roles and responsibilities
Finger-pointing
Lack of accountability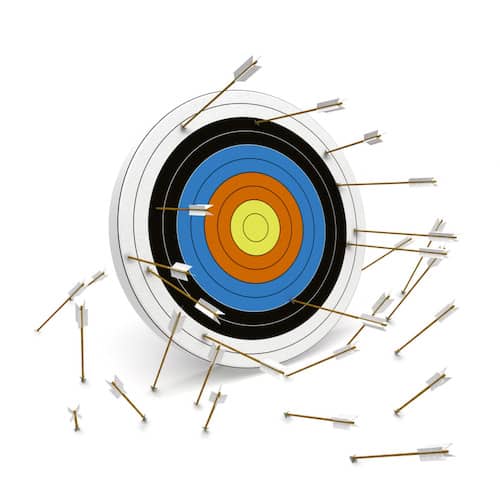 Top 7 Causes for Performance Management Failure
1. Wrong metrics: Indicators must be meaningful and under the influence of the team, responsible for the results. Ideally use leading indicators that are quickly responding to changes.
2. Poor targets: To be effective, goals and objectives must be meaningful, easy to measure, within scope and control of the team, part of the blanced scorecard, and create real improvement within the period.
3. Lack of relevance: To drive results and employee engagement, metrics and system but be connected to, and aligned between the different levels of the organization, see also strategy deployment. 
4. Lack of transparency: Employees want to see how their work contributes to the overall mission. Make sure that the link between individual effort and company objectives is clear and firm.
5. Lack of dialogue: Performance management requires regular performance dialog, an honest and open communication between stakeholders to report results and address problems. 
6. Lack of consequence: Good performance needs to be corrected and bad performance needs to be corrected through coaching and penalization. In either case, results must have consequences. 
7. Lack of management engagement: Interactions between the different organizational levels is crucial, so operators understand the reasons for goals and leaders understand the issues that frontline people are facing to accomplish work and serve customers. 
An Effective Performance Management System Prevents Failure, Ensures Goals Being Met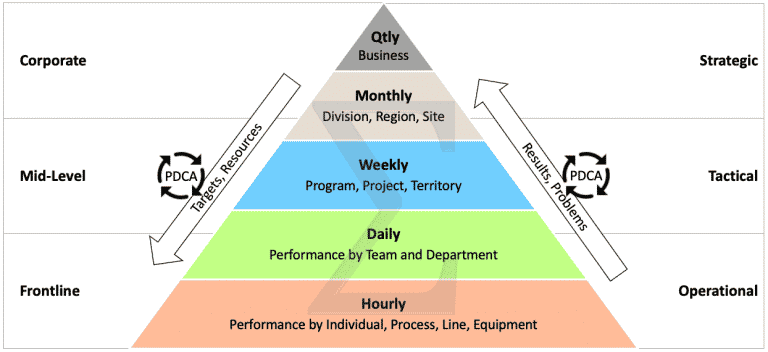 The pyramid model links strategy deployment to performance management. The top-down strategy deployment or hoshin kanri helps managers to translate strategic goals ("what") into tactical implementation plans ("how"). The bottom-up performance management process ensures that everyone sees the same reality, plans are defined, resources assigned, actions implemented, problems solved, and goals achieved – with great confidence and consistency. 
A Firm Standard Ensures Targets Are Set, Resources Assigned, Results Tracked, Problems Addressed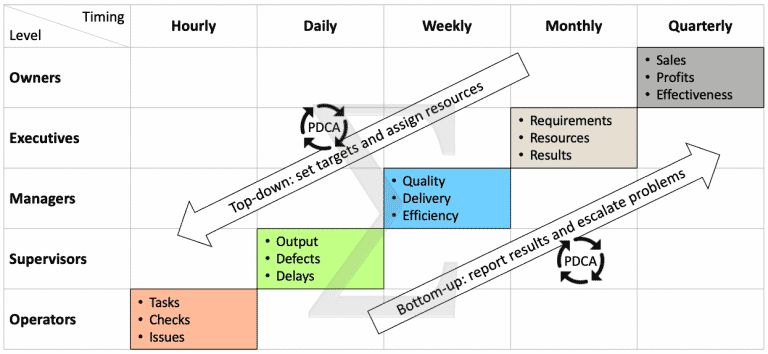 A standardized schedule ensures the continuous exchange of information between teams at the different levels of the organization. A regular performance-review cadence allows issues to be identified and resolved within desired cycle, as specified in the leader standard work (LSW) procedure. Tasks, timing, roles, and responsibilities are clearly assigned to each level of the organization:
Operators complete tasks, perform checks, and record issues.
Supervisors monitor work and report output, defects, delays.
Managers plan capacity and control quality, delivery, efficiency.
Executives define requirements, allocate resources, plan results.
Owners provide direction to ensure sales, profits, effectiveness.
The Deming or Shewhart cycle "plan-do-check-act" (PDCA) engages the entire workforces in target setting, tactical planning, resource allocation, tactical planning, results tracking, instant feedback loops, daily performance dialogues, routine performance reviews, employee appraisal, and problem solving activities to achieve set targets. 
Daily shift huddles, toolbox talks, task reviews, help each team to maintain a focus on doing what matters most, to learn from mistakes, and identify best-known practices (BKP) that can be applied elsewhere. The willingness and ability to hardwire these performance-management processes into the rhythm of daily work is the most effective path to real, sustainable performance improvements.
How the Process Works - Performance Management Follows the PDCA or PATR Cycle
Per­for­mance man­age­ment is the con­tin­u­ous process of improv­ing per­for­mance by set­ting goals which are aligned to the strate­gic goals of the organ­i­sa­tion, plan­ning per­for­mance to achieve the goals, review­ing and assess­ing progress, and devel­op­ing the knowl­edge, skills and abil­i­ties of peo­ple. It is a continuous process and not a once-per-year event, such as the annual budgeting or annual employee appraisal. 
This phi­los­o­phy of con­tin­u­ous per­for­mance man­age­ment has been adopt­ed by all leading companies today; even the human resource (HR) function has aban­doned their tra­di­tion­al once-a-year per­for­mance appraisals in favour of reg­u­lar"check-ins" and fre­quent (near real-time) feedback.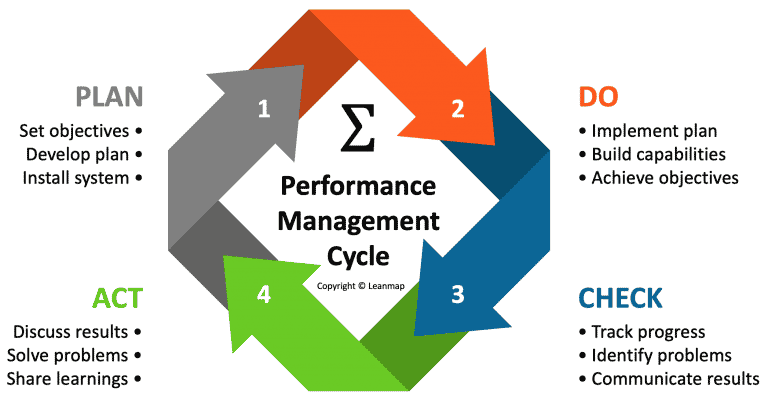 The process follows Deming's PDCA cycle (plan-do-check-act) to systematically plan and achieve results. Some variations to the classic PDCA are PATR (plan-act-track-review) and PDTR (plan-do-track-review); they follow the exact same logic just label phases differently. Stay with PDCA; deviating from this broadly-used framework adds no value. At Leanmap we have standardized the top 3 key activities for each phase, allowing for a quick check to ensure each phase has been properly completed before moving to the next. 
Plan: Set goals and objectives, define performance standards, develop the plan, and install the system, which includes white boards for physical meetings or shared documents for virtual meetings, and standard operating procedures (SOP) to formalize the management process.

Do: Implement the plan, build capabilities to close identified skill gaps, and achieve planned goals and objectives. The Do-phase requires persistent follow-up to ensure the plan is achieved on time and on budget, while holding people responsible for the results.

Check: Track performance, measure progress against the plan, identify defects and delays, and communicate results. The Check-phase requires frequent measurement of leading key performance indicators (KPIs) so everyone understands the status and progress at all times. 

Act: Discuss results (hits and misses), analyze and solve problems, and share the learnings. In case of continuous good results, increase the target or tighten the limit. In case of poor performance, address the underlying root-causes using systematic problem solving techniques.
Targets Must Be SMART or Else They Will Not Work
The first step of the performance management cycle is setting targets. The SMART framework brings structure and traceability into your goals and objectives. It stands for Specific, Measurable, Achievable, Relevant, Timely. It helps you to clarify the vision, focus your efforts, use your time and resources productively, and increase your chances of success. In addition, SMART targets are the foundation of fair and effective employee appraisals.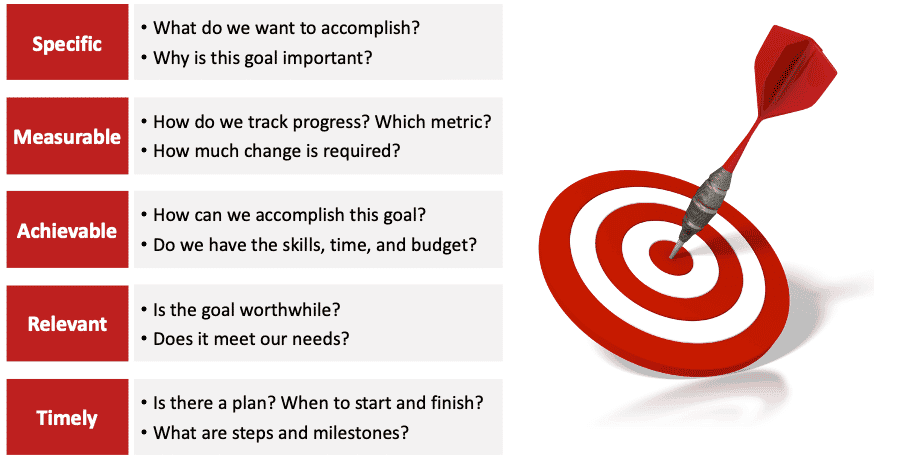 Specific: What do we want to accomplish? What is this goal important?

Measurable: How do we track progress? Which KPI? How much change is required?

Achievable: How can we accomplish this goal? Do we have the skills, time, and budget?

Relevant: Is the goal worthwhile? Does it meet our needs?

Timely: Is there a plan? When to start and finish? What are the steps and milestones?
Take the Performance-Management Course to Become a Performance-Management Professional
Taking this training course strengthens your management skills by leading your team through the performance management workshop. The training is designed for leaders, supervisors, and managers; see here an actual leadership training. You will learn how the process works, which metrics to use, how to apply proven performance management tools and templates to build and operate such system. Roles for this course include sponsor, student, and coach. The sponsor allocates resources and provides context, such as missed targets, persistent gaps, insufficient progress, or inconsistent results. The student invests time to develop and implement the process and system. The coach evaluates progress, provides advice and feedback.
Completing this course not only builds new skills, but also makes you better leader by helping your team succeed. Specifically, see and solve problems before crisis strikes and systematically achieve targets that seemed out of reach before. For example, reducing the gap between the current state and the ideal state by 1-5 percentage-points each month, or 12%…60% each year. It also allows you to conduct more effective performance evaluations based on SMART KPIs, improving employee engagement and customer satisfaction.  
Digital Performance Management - Building the System for the Future
The Fourth Industrial Revolution (4IR) offers new opportunities, not only monitoring the performance of individual assets, production lines, and sites, but also across the entire end-to-end value chain and operating network – see an application example at Norsk Gjenvinning. Capitalizing on those rapidly-evolving opportunities requires the right skills and capabilities. Taking the performance management training course is the first step to develop those "future-proof" capabilities.
What's next? The enterprise-level digital performance management extends 4IR technologies to provide the entire organization, from executives to frontline operators, with actionable insights that enable faster, more accurate decisions about operational and financial performance (e.g. cost per minute CPM). Ideally, a single system supports not only the reporting needs that senior teams need in reevaluating strategy, but also the agile problem-solving systems that workers need to identify deviations and constraints, perform root-cause analysis, and ensure corrective actions are taken on most critical issues.