Benchmark Your Operation »
Do you operate at a world-class level? Perform the self-assessment to find out, scoring health and maturity level against world-class references. As a result, you can identify the necessary changes to make your operation invincible to attack by competitors.
How close to World-Class? The Operations Health Check (OHC) benchmarks your operation against world-class references. The audit takes 10-20 minutes to answer 20 diagnostics questions.
Read More »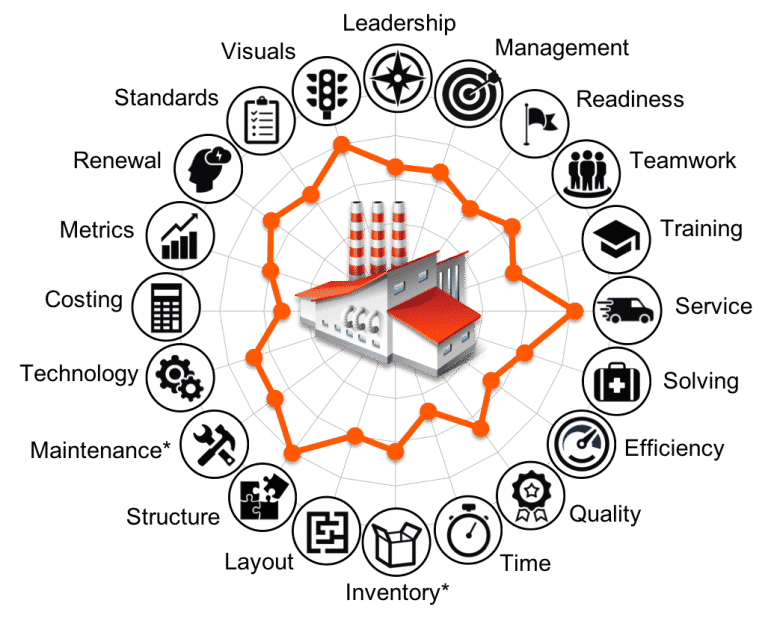 The 20 Keys to World-Class Manufacturing
Costing and budgeting, process and system
Efficiency management and resource planning
Inventory* amount and management system
Layout, distances, communication, ergonomics
Leadership and policy deployment process
Maintenance* and asset management
Management, priority setting, decision making
Metrics and performance measurement
Quality level, process capability, yield
Readiness, willingness to change, flexibility
Renewal, innovation and improvement
Service level, internal and external customers
Solving, root-cause analysis and elimination
Standards, policies, procedures, instructions
Structure, organizing and housekeeping, 5S
Teamwork, cooperation and coordination
Technology, equipment, computers, systems
Time management, deadlines, commitments
Training, capability building, skill flexibility
Visuals, status signals, visual management
* Factory-specific assessment keys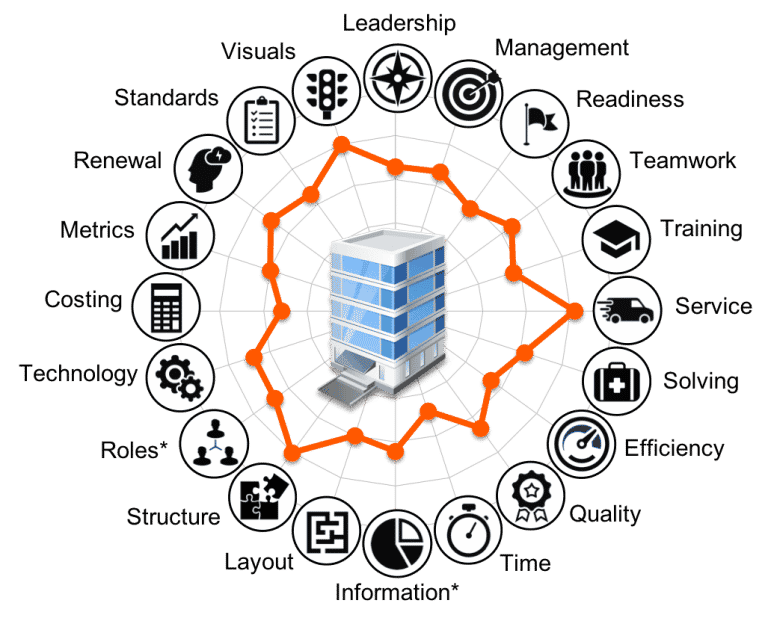 The 20 Keys to World-Class Service
Costing and budgeting, process and system
Efficiency management and resource planning
Information** management and system
Layout, distances, communication, ergonomics
Leadership and policy deployment process
Management, priority setting, decision making
Metrics and performance measurement
Quality level, process capability, yield
Readiness, willingness to change, flexibility
Renewal, innovation and improvement
Roles**, responsibilities and ownership
Service level, internal and external customers
Solving, root-cause analysis and elimination
Standards, policies, procedures, instructions
Structure, organizing and housekeeping, 5S
Teamwork, cooperation and coordination
Technology, equipment, computers, systems
Time management, deadlines, commitments
Training, capability building, skill flexibility
Visuals, status signals, visual management
** Office-specific assessment keys