Turning Vision into Reality:
The Strategy Deployment Framework (SDF) helps leaders systematically translate their visions into strategic objectives and those into tactical and operational plans. The framework serves as a basis for performance standards, planning, decision-making, resource mobilization and allocation.
Strategy Deployment Pyramid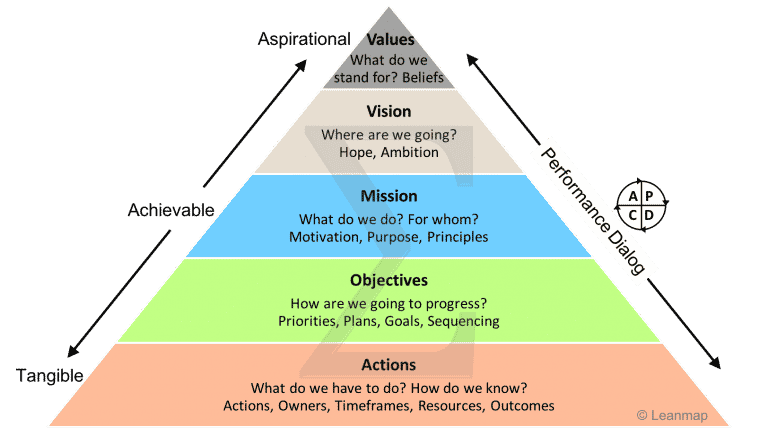 The Strategy Deployment Pyramid assists in choosing the business' most important goals, identifying critical gaps, targeting improvement outcomes, engaging the workforce in problem solving, and putting in place defined PDCA loops to execute the plan. This Hoshin Kanri process systematically translates aspirations into tangible improvements.
Strategy Deployment Model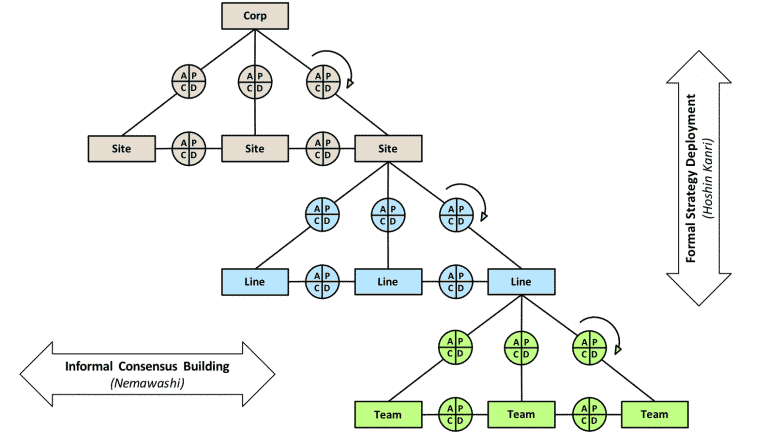 The Strategy Deployment Model connects the different organizational layers (Corporate, Site, Line, Team) by defining the "WHAT" and the "HOW":  What specifically to do and accomplish and how to accomplish the given target by solving what specific problem and achieving what results. PDCA cycles ensure full alignment and continuous learning and improvement.
Strategy Deployment Framework
How it works:
During the strategic planning workshop, the team clarifies its vision and mission, and analyzes internal strengths and weaknesses, as well as external opportunities and threats. It then reviews existing plans to identify gaps and strategic issues that need to be addressed in a revised plan to achieve its mission. Under guidance of the Leanmap expert, the team formulate goals and strategic objectives to build the X-Matrix, which serves as a blueprint to develop the organization and ensure its long-term growth and sustainability. Using the X-Matrix as a basis, the team creates the Strategy Deployment Roadmap, specifying key initiatives, detailed activities, resources requirements, monthly goals and deliverables.
How long it takes:
The Strategy Deployment Workshop takes 3 days for analysis, mapping, and alignment. In case that vision and plans are outdated or not well defined at the beginning of the workshop, then two additional days will be required (5 days total) to solidify the organization's vision and mission, align on priorities and tradeoffs, and develop key initiatives and detailed deployment plans.
Who is involved:
Building the Strategy Deployment Framework (SDF) is one of the most important, exciting, and also challenging exercises and organization can undertake. It therefore requires the full engagement of the entire leadership team. The Leanmap expert moderates the workshop, guiding the team through the alignment and development process.
What you can expect:
Outcome of the strategic analysis exercise is a thorough understanding of the organization's existing structure, governance, staff, product and service mix, collaborations, and resources (human, financial, intellectual, technical, material). The second part, the strategic planning exercise, delivers an aligned vision of the future and the blueprint to achieve it. The X-Matrix (outline) and Deployment Roadmap (details) specify changes, the rationale and sequence of those changes, the responsible change agents, and the resources required for its execution.
How much it costs:
Leanmap helps leaders make their vision a reality by providing assistance for strategic planning, workshop moderation, and roadmap design. The SDF workshop is a 10-day effort, including preparation and one follow-up call. Additional coaching support is available during the deployment period to ensure that objectives are not only defined but also actually achieved.
The X-Matrix is Key Tool for Strategy Deployment
Policy or strategy deployment requires full alignment between people, purpose, priorities, and processes. The degree of alignment is mapped visually in the X-matrix, a tool that links strategic objectives to operational targets, and those targets to functions and processes. The matrix translates breakthrough objectives into operational targets. Then teams work bottom-up to identify the required resources, skills, and structures to achieve those strategic objectives. Once this information is available, targets and timelines are refined and the process starts once again for the next planning cycle.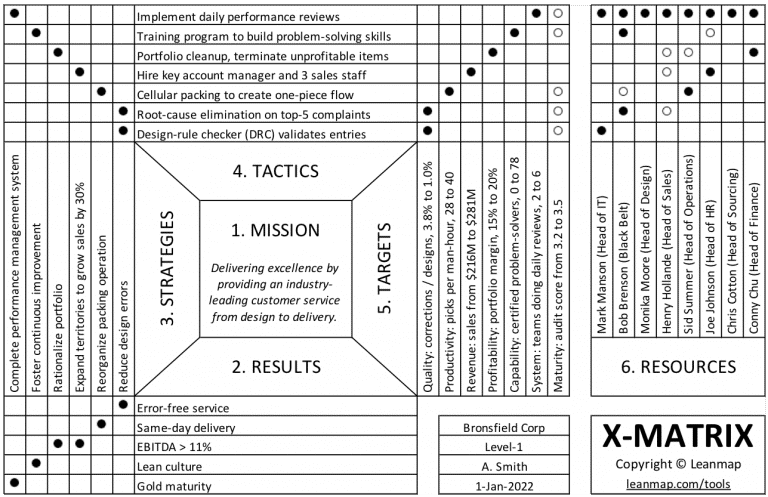 X-Matrix Development in 6 Steps
The X-Matrix links purpose and principles ("Mission") to long-term or breakthrough objectives ("Results"), and those to annual strategic objectives ("Strategies"), and those to improvement priorities ("Tactics"), and those to performance metrics and target ("Targets"), and those to people responsible for the implementation ("Resources"). Here are the 6 steps to set up the X-Matrix:
Purpose of existence and guiding principles: "how we should act every day (mission) to achieve our dream someday (vision)". Example: "Provide access to the world's information in one click." (Google).
Long-term results or breakthrough objectives to be achieved over the next 3-5 years. Examples: build learning organization, break-even, same-day delivery, continuous flow end-to-end.
Annual objectives, results to achieve or changes to implement. Examples: rationalize portfolio, develop strategic partners, implement new IT system, develop new product line, reduce design errors in half.
Improvement priorities, programs and projects to implement during the current year. Examples: root-cause elimination of top-5 complaints, set up sales office, clean up portfolio, train people in problem-solving.
Performance metrics and targets for the current year. Examples: productivity from 28 to 40 items per man-hour, on-time delivery from 78% to 95%, sales from $216M to $281M, portfolio margin from 15% to 20%.
People responsible for implementing priorities. Example: Mark Morrison (Head of IT) is responsible for implementing the design rule checker (DRC) and rolling out performance management in IT.
White Belt, Yellow Belt, Green Belt, Black Belt: Lean Six Sigma (LSS) courses build robust skills in opportunity analysis and project delivery, creating measurable impact.
Learn More »
Eliminating Root Causes: Systematic Problem Solving (SPS) is a foundational skill for essentially everyone, addressing performance and behavioural problems to improve quality and customer satisfaction.
Learn More »
Systematically Meeting Targets: The Performance Management System (PMS) lets you continuously track progress against plans, while coordinating activities to maximize what matters most: achieving results.
Learn More »