Get your company formally assessed by a Lean expert, and certified after passing a physical audit at maturity level 2-Bronze, 3-Silver, 4-Gold. 
Why Getting Lean-Certified?
Lean standards allow manufacturers and service companies operate efficiently and effectively. They increase productivity, shorten response times, and help companies capture new customers and gain access new markets through rapid response and just-in-time delivery. The Lean certification process provides coaching feedback and formally recognizes the team for advancing their operation, while. creating motivation and insights to prepare for the phase on their Lean journey.
The 3 Maturity Milestones
Maturity is measured on a five-point scale, ranging from the lowest level "Iron" (1) to the highest level "Diamond" (5). From all companies that we have assessed to date, 97% scored in the range 2-3-4, operating at Bronze-Silver-Gold level. Each of those maturity milestones are characterized by a distinct (a) Starting point, (b) Focus for improvement, and (c) End point.
Start: major effort to make the numbers
Focus: fire-fighting, de-bottlenecking
End: hot spots solved or contained
Start: targets met but requires extra effort
Focus: reducing waste, strain, variability
End: processes controlled, results predictable
Start: strong results but not yet automatic
Focus: systemizing and standardizing
End: processes linked, interfaces optimized
The 5-Step Lean Certification Process

1. Preparation: the sponsor specifies the purpose of the audit, to be either benchmarking, self-assessment, progress measurement, or opportunity discovery, and nominates the members of the audit team to include representatives from all key functions that make up the assessed site or value stream.
2. Audit Tour: the members of the internal team walk together with the external auditor through their value streams in flow direction from input to output, evaluating people, processes, setup, and system.
3. Checklist: the audit team meets in the conference room for a guided self-assessment, moderated by the external auditor or internal team leader. The moderator ensures that a certain level is selected only when all stated criteria are attained.
4. Analysis: translating insights into improvements. Led by the external auditor or internal group leader, the team decides on an ambitious yet realistic advancement rate, taking the target minus baseline, divided by the number of years to accomplish the target.
5. Certification: After the progress measurement is established, the team compares it against the goal they have defined during the previous audit. Two things must occur for certification: the target maturity has been attained at an advancement rate of +0.15 per year or higher.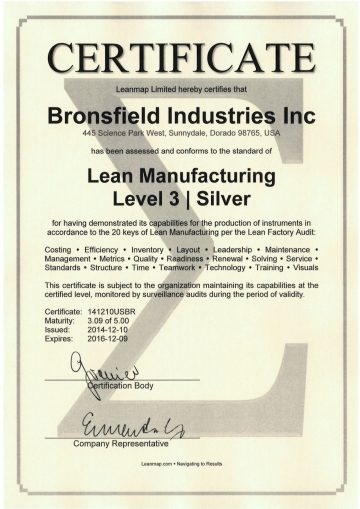 Lean Manufacturing Certificate for factories,
Lean Service Certificate for office operations.
At least two measurements are required to confirm that the audited organization has truly achieved the level of maturity as assessed by the Lean Audit score. The certification process is an extension of the auditing process, which provides both the baseline and subsequent progress measurements. And how does this work in practice? Suppose an organization measures 2.7 on the first assessment. This initial measurement does not warrant a certificate; rather, it establishes the baseline for a certificate. Several months later, the audit is repeated to determine progress relative to the baseline. As an example, consider the case study discussed earlier. Post-audit, the team was able to move the needle by +0.4 to 3.1 on the maturity scale, which justifies awarding a Silver certificate.
Tracking maturity is like tracking atmospheric pressure with a barometer: it provides a clear indication of improving weather. Maturity gain, as established by the 20 Keys, is therefore a leading indicator that complements financial reports in an ideal way indicator that complements financial reports in an ideal way because they are comprised solely of lagging indicators. What does this mean? If a company makes fundamental changes to its setup or structure affecting capability, it will quickly be reflected in the maturity score, but it may take months or years for it to affect financial reports. The 20 Keys are therefore a kind of weather forecast for future operating performance. Principles and processes are described in detail in the Lean Audit book.
Celebrating the Achievement
When certification occurs, the event should be formally communicated and celebrated in the same (or similar) fashion that a company celebrates when they meet a significant financial goal or capture a new valued client. Why celebrate? Because more mature companies do better than less mature ones, so an improving score in the Lean Audit—along with certification—suggest better operating results in the near future. It is a good reason to recognize people for their extra effort to move the organization forward.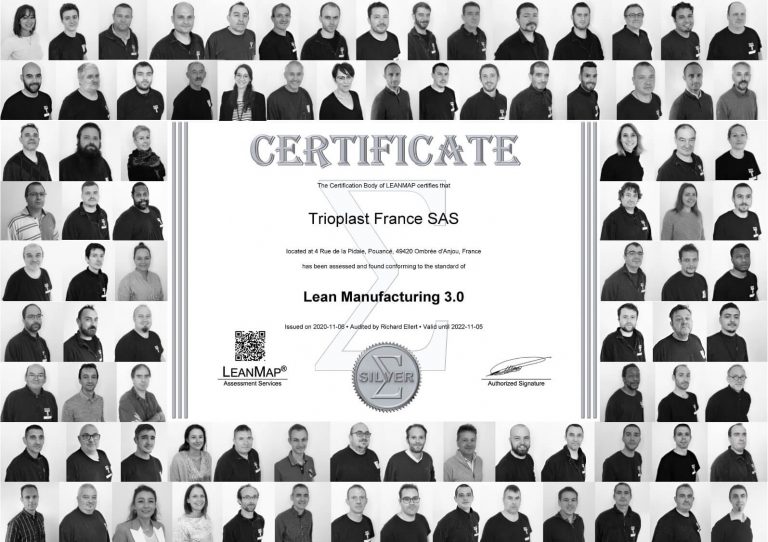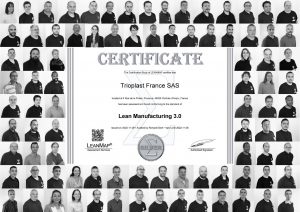 Trioplast, one of Europe's leading manufacturer of polyethylene film for cost-effective packaging solutions embarked on a systematic Lean rollout in 2018 to transform its operations.
View Details »