White Belt, Yellow Belt, Green Belt, Black Belt:
Lean Six Sigma (LSS) courses builds robust skills in project analysis, scoping, delivery, while creating real impact. Students learn to uncover hidden potentials and systematically improve performance. By doing so, champions not only build skills, but also create tangible benefits from systematically reducing waste and variability. Trainees advance their skills in up to five steps: (1) No Belt «Ready», (2) White Belt «Beginner», (3) Yellow Belt «Intermediate», (4) Green Belt «Advanced», (5) Black Belt «Expert».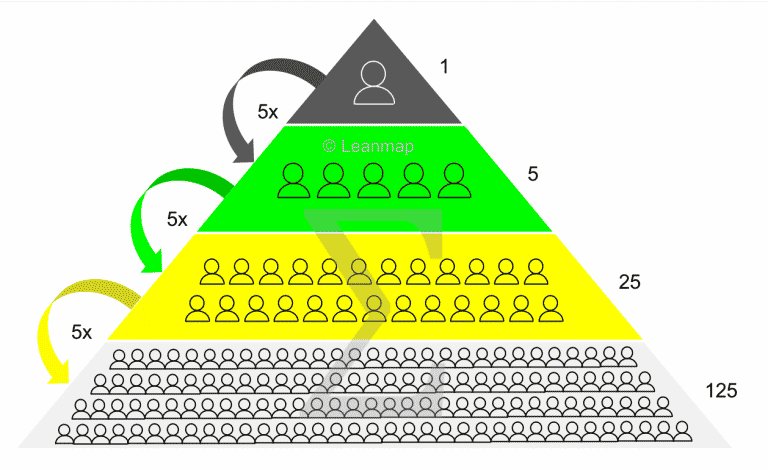 The training program establishes a Skill Pyramid to cascade knowledge from expert down to the frontline, involving people at all levels of the organization, including senior management; like one CEO puts it: "we are taking our own medicine".
Employing a Train-the-Trainer approach, means that certified champions ("Belts") move up one level in the pyramid, and by doing so, they become the trainers for people below them.
Each Black Belt supports 5 Green Belts, who support 5×5=25 Yellow Belts, who support 5x5x5=125 White Belts. At full leverage of the model, one Black Belt supports an organization of 200 people, of which 160 or 80% participate in the training program.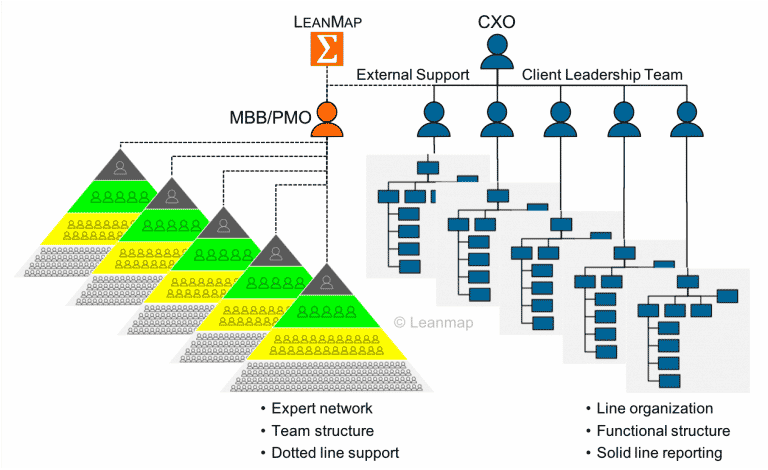 How the Organization works
The Skill Pyramid is a professional support structure that allows people to connect with each other, exchange experiences, develop new ways of working, and provide coaching support.
A customer service agent for example, who is working on a Yellow Belt project might get support from an accountant, who is a certified Green Belt and worked on a similar project before.
Leanmap provides the training courses to transfer skills and also the implementation assistance to build such professional support structure.
As Master Black Belt (MBB) we deliver the training and as interim manager we lead the Project Management Office (PMO) to ensure the program contributes to the bottom line.
How it works:
The program consists of three parts: training, project, and certification. During the Training Camp, participants learn about principles, tools, and techniques. Right after the training, they apply what they have learned in practical Improvement Projects to build real skills and create a tangible benefit for the company sponsoring the program. Champions present their work at the Certification Camp to get formally certified, learning additional skills and getting ready to train others. By doing do, they are setting in motion a "cascade of knowledge" to get their peers and direct reports on board.
How long it takes:
The total time for learning, application, and validation takes 1 week for White Belt (WB), 2 months for Yellow Belt (YB), 6 months for Green Belt (GB), and 12 months for Black Belt (BB). During this period, participants must have enough time available to apply their skills and create the impact required for certification. The minimum fully dedicated time is 1 day for White Belt, 5 days for Yellow Belt, 30 days for Green Belt, and 100 days for Black Belt. After attaining certification, participants must deliver one more project before they can apply for the next level, e.g. completing 2 Yellow Belt projects before starting Green Belt training.
Who is involved:
There are four roles to be assigned: sponsor, learner, trainer, and controller. The sponsor initiates the program, provides context and allocates resources. Learners invest their time, including some personal time, to read the material, complete exercises, and implement improvements. The trainer leads learners through the program, providing theory, exercises, and coaching support. For Yellow Belt and above, the controller validates financial benefits created from the improvement projects.
What you can expect:
Certified champions are able to see and act upon opportunities where they could not before. By improving quality, efficiency, and flexibility they generate benefits from faster delivery and lower cost. Financial benefit from a single program is typically $0.6M to $1.2M per year, assuming a $50M addressable cost base and visible support from the top.
How much it costs:
The program is self-funding, as most projects achieve full payback within the implementation period and typically deliver a financial benefit of 5 to 10x over cost (ROI) within the project lifecycle. To ensure effective skill transfer, the trainer must be able to spend quality time with each participant. We therefore limit the group size per trainer and session to 20 people, whereas the ideal size is half of the limit. The amount our clients spend on Leanmap support for training, project setup, coaching during the implementation period, and certification is typically 1/5 to 1/10 of the delivered impact. It's money well spent.
Qualification Process:
1-month program

3 WB modules
Exit Competencies:
Identify the 8 wastes
Solve simple problems
Organize workplaces
Perform 5S audits
Yellow Belt: Intermediate
Qualification Process:
2-month program
6 YB modules
Exit Competencies:
Reduce process waste
Solve basic problems
Deliver process Kaizen
Train and certify WB
Qualification Process:
4-month program
6 GB modules
Exist Competencies:
Map value streams
Implement flow and pull
Solve advanced problems
Train and certify WB+YB
Qualification Process:
6-month program
6 BB modules
Exit Competencies:
Lead cross-site programs
Deliver transformations
Solve complex problems
Coach/certify WB+YB+GB
White Belt Course Description
The White Belt course is a one-day workshop to introduce Lean principles, basic tools and techniques. In practical simulation games, students learn how easy it is to reduce waste and improve their daily work. Certification requires completing four parts: 
attend a full day classroom training session,
participate in a simulation game,
analyze a problem using the PDCA form, and
assess housekeeping level, using the 5S checklist.
The White Belt course is suitable for all anyone in any profession, working at any level, to learn the basic principles and practices.
8 Wastes Identification
5S Method and Audit
Fishbone 4M Categories
5 Why, simple Problems
PDCA Process, Template
After the course we frequently hear comments like: "I can see things clearly now", "This is totally common sense!", "Why haven't we thought of this before?". The course is practical and fun; it helps people at all levels to get informed, overcome fears, and open up to a new way of working that benefits customers, employees, and owners.
Yellow Belt Course Description
The Yellow Belt course is a two-month program where students learn how to apply Lean to their area of responsibility. By improving process performance, they not only develop new skills, but also create a tangible benefit for their sponsor. Certification requires completing four parts:
attend two classroom sessions for training and certification,
implement an improvement project and achieve a traceable benefit,
formally solve a problem using the PDCA method, and
create a work standard in OPL or SOP or SLA format.
The Yellow Belt course is ideal for anyone working with a computer, being responsible for people, knowledge, workflow, or machines.
Yellow Belt Training Modules
5S as a System
8W "DOWNTIME"
Abnormality Signals
Batch and Queue
Cellular Concept
Continuous Flow
Cycle Time Basics
Downtime and Efficiency
Error-Proofing, Poka-Yoke
First-In First-Out FIFO
Fishbone Ishikawa 4M
Kaizen Principles, Project
OPL One Point Lesson
Overproduction
Problem Solving PDCA
Green Belt Course Description
The Green Belt course is a six-month program to build advanced skills by applying Lean to interfaces and value streams, improving cross-functional performance. Certification requires completing five parts:
attend two classroom sessions for training and certification,
get proficient in value stream mapping VSM,
implement an improvement project and achieved a tangible benefit,
solve an advanced problem using the PDCA method, and
create an advanced work standard in SOP or SLA format.
The Green Belt course is ideal for managers and functional specialists.
Green Belt Training Modules
Cycle, Takt, Tact, Pitch
Inventory Optimization
Just-in-Time JIT
Lean Manufacturing
Lean Admin & Service
Load-Leveling, Heijunka
Management Boards
Product and Service Matrix
Pull Systems: A and B
Setup Reduction SMED, RTS
Skill-Matrix
Spaghetti Chart
Standard Operating Procedure SOP
Total Productive Maintenance TPM
Value Stream Mapping VSM
Black Belt Course Description
The Black Belt program builds expert capability over a 12-month period by applying Lean principles to products, processes, and systems. Students learn streamlining manufacturing and service processes, optimizing products and product portfolios, and reconfiguring value streams for higher efficiency and flexibility. Supported by a coach, a Black Belt student transforms an end-to-end process, from order to fulfillment, creating a step-change in performance. Certification requires completing seven parts:
attend two one-week workshops for training and certification,
deeply understand the 20 keys of world-class operations and lean audit techniques,
become proficient in value stream mapping for factory and office,
perform operations cost analysis using cost-driver tree,
implement a transformational project and achieved a step-change in performance,
solve a complex problem using failure-tree and multi-PDCA, and
create a business-level work standard in SOP or SLA format.
The Black Belt course is ideal for anyone responsible for an organization, critical projects, or a large asset base.
Black Belt Training Modules
Control Charts
Cost of Poor Quality COPQ
Profit Per Hour PPH
Zero-Based Budgeting ZBB
Flexibilizing, Balancing
Flow Production, Service 
Non-Performance Cost NPC
Process Capability Cp, Cpk
Pull Systems: A, B, C
Risk Analysis FMEA
Roadmap Design
Metrics, Scorecards
Strategy Deployment, X-Matrix
Cycle Time, Takt, Pitch
First Pass Yield FPY
Rolled Throughput Yield RTY
Variability Reduction Methods
4000+ Graduates from 20+ Countries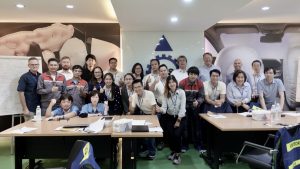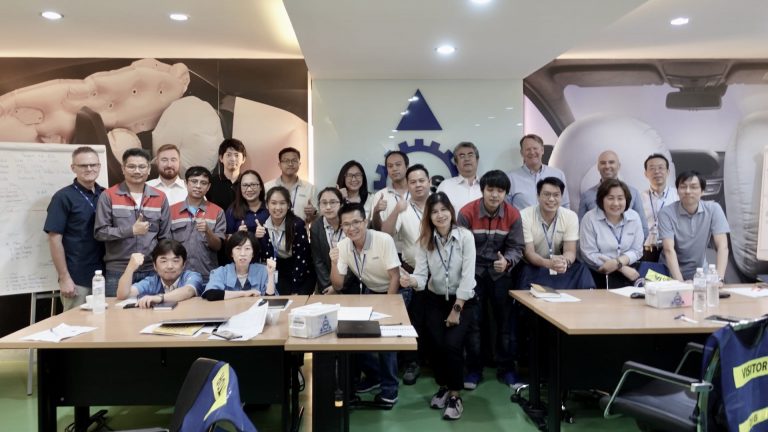 Building problem-solving skills for Automotive to systematically identify cause-effect relationships and effectively eliminate underlying root causes. By doing so, preventing costly product and process failures.
View Details »