White Belt, Yellow Belt, Green Belt, Black Belt:
Lean Six Sigma (LSS) courses build robust skills in opportunity analysis and project delivery, creating measurable impact. Students learn how to uncover hidden potentials and systematically improve performance. By doing so, champions not only build new capabilities, but also create real benefits for their team and company. Over the past 10 years, we have trained over 4,700 champions in 34 countries who delivered over $85 million impact with their first Lean Six Sigma improvement projects.
Kick-start your professional improvement journey
Get certified as a White, Yellow, Green, Black Belt
Eliminate wastes and boost efficiency with Lean
Reduce variability to boost quality with Six Sigma
Translate opportunities into formal project charters
Take quizzes to check your knowledge, get feedback
Apply learning to create measurable improvements
Standardize processes and create work instructions
Deliver real benefits by reducing effort, time, cost
White Belt: $500 and Yellow Belt: $5k at ROI=5x
Green Belt: $20k and Black Belt: $50k at ROI=10x
Build your skills to advance your career and results
Build skills that boost your career by simultaneously improving quality, speed, productivity, and cost. Your will learn how to apply problem-solving and performance-improvement techniques to create breakthrough results for your team, process, and company. 
Reducing the eight wastes and tackling the three losses makes your target-area more lean and efficient, while addressing the root-causes of delays and defects with Six Sigma boosts quality and customer satisfaction. 
This Lean Six Sigma course is for anyone who wants to reduce lead-times, rework, returns, and effort by up to 90% – measurably increasing productivity, capacity, and profitability with a return on investment of 5-10x with the first project. Nothing to lose, but much to gain. Boost skills and results, start now!
Lean Six Sigma - Program Brief
How it works:
The program consists of three parts: training, application, certification. During the training, participants learn about principles, tools, and techniques. Right after the training, they apply learnings in practical improvement projects to build real skills and create measurable benefits.
How long it takes:
The time to become a White Belt takes 2 days effort over a 1-month period. A Yellow Belt takes 10 days effort over 2 months. A Green Belt requires 15 days effort during 3 months, and a Black Belt is certified after implementing a transformation program, requiring at least 30 days effort over a 6-month period.
Who is involved:
The four key roles are sponsor, learner, trainer, and controller. The sponsor initiates the program, provides context and allocates resources. Learners invest their time to read the material, complete exercises, and implement improvements. The trainer reviews progress and provides coaching feedback. For Yellow Belt and above, the controller validates financial benefits created through the improvement projects.
What you can expect:
Certified champions are able to see and act on opportunities where they could not before. By improving quality, efficiency, and flexibility, they generate real benefits from faster delivery, lower cost, and higher customer satisfaction.
How much it costs:
Courses are highly profitable as skills are applied and improvements implemented. Most projects achieve full payback even within their short implementation period and deliver a financial benefit of 5-10x over tuition fees (ROI) with the first implemented project.
Purpose: build certified capability at the «Beginner» level; an introductory course for everyone, from janitor to executive.

Schedule: 2 days effort within a 1-month period to learn the theory, organize a workplace, solve a problem, and attain certification.

Exit competencies: organize workplace with 5S, identify and reduce the 8 deadly wastes to improve quality and efficiency, solve simple problems with PDCA.

Benefit: spot-improvement to create a visible or even measurable benefit, worth $500 (self-certified).
Yellow Belt
«Intermediate»
$
999
Benefit: 5x
Purpose: build certified capability at the «Intermediate» level for anyone working with a computer, machine, or process.

Schedule: 5 days effort within a 2-month period to learn the theory, implement a small improvement project, and attain certification.

Exit competencies: improve process quality and efficiency by reducing wastes, develop project charters, solve basic problems, train and certify White Belts.

Benefit: functional improvement to deliver at least 10% performance gain or $5,000 financial benefit.
$
1999
Benefit: 10x
Purpose: build certified capability at the «Advanced» level for managers and specialists, responsible for teams or assets.

Schedule: 10 days effort within a 3-month period to learn the theory, implement a cross-functional improvement, and attain certification.

Exit competencies: map value streams, implement flow and pull, apply statistical analysis and controls, solve advanced problems, train and certify White and Yellow Belts.

Benefit: cross-functional project to deliver at least 20% performance gain and $20,000 financial benefit.
$
4999
Benefit: 10x
Purpose: build certified capability at the «Expert» level for program leaders and organizational change agents.

Schedule: 30 days effort within a 6-month period to learn the theory, implement a transformation project, and attain certification.

Exit competencies: lead cross-site transformation programs, apply statistical methods to analyze and solve complex problems, train and certify White, Yellow, Green Belts.

Benefit: transformation project to deliver at least 30% performance gain and $50,000 financial benefit.
8 Wastes Identification
5S Method and Audit
Fishbone 6M Categories
5 Why, simple Problems
PDCA Process, Template
Quotes from course participants: 
"I can see things clearly now!"
"This is totally common sense!"
"Everyone should learn this!"
"A new way of working."
"This was practical and fun!"
"Why haven't we thought about this before?"
5S as a System
8W "DOWNTIME"
Abnormality Signals
Batch and Queue
Cellular Concept
Continuous Flow
Cycle Time Basics
Downtime and Efficiency
Error-Proofing, Poka-Yoke
First-In First-Out FIFO
Fishbone Ishikawa 6M
Kaizen Principles, Project
OPL One Point Lesson
Overproduction
Problem Solving PDCA
Cycle, Takt, Tact, Pitch
Inventory Optimization
Just-in-Time JIT
Lean Manufacturing
Lean Admin & Service
Load-Leveling, Heijunka
Management Boards
Product and Service Matrix
Pull Systems: A and B
Setup Reduction SMED, RTS
Skill-Matrix
Spaghetti Chart
Standard Operating Procedure
Total Productive Maintenance
Value Stream Mapping VSM
Control Charts
Cost of Poor Quality COPQ
Profit Per Hour PPH
Zero-Based Budgeting ZBB
Flexibilizing, Balancing
Flow Production, Service
Non-Performance Cost NPC
Process Capability Cp, Cpk
Pull Systems: A, B, C
Risk Analysis FMEA
Roadmap Design
Metrics, Scorecards
Strategy Deployment, X-Matrix
Cycle Time, Takt, Pitch
First Pass Yield FPY
Rolled Throughput Yield RTY
Variability Reduction Methods
Lean Six Sigma Champions: How to Leverage Skills and Build an Effective Support Structure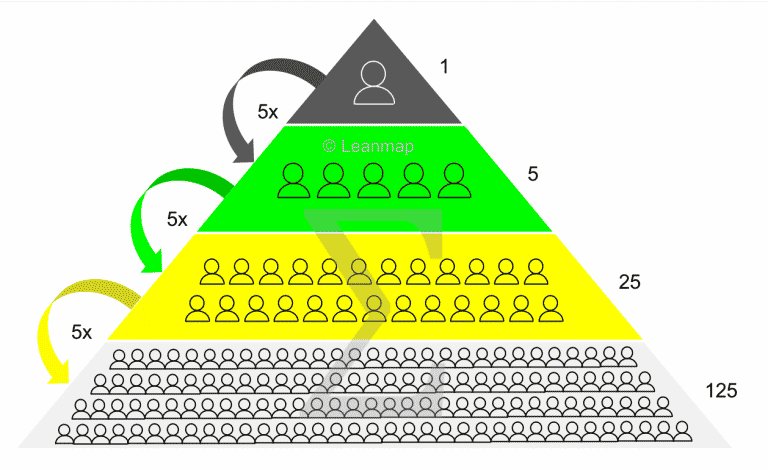 The training program establishes a Skill Pyramid to cascade knowledge from expert down to the frontline, involving people at all levels of the organization, including senior management; like one CEO puts it: "we are taking our own medicine".
Employing a train-the-trainer model means that certified Yellow Belts, Green Belts, Black Belts develop and certify people below them.
Each Black Belt supports at least 5 Green Belts, of which each Green Belt supports at least 5×5 = 25 Yellow Belts, of which each Yellow Belt supports at least 5x5x5 = 125 White Belts. 
At 5x-leverage, one Black Belt supports an organization of 200 people, of which 160 or 80% participate and attain Lean Six Sigma certification.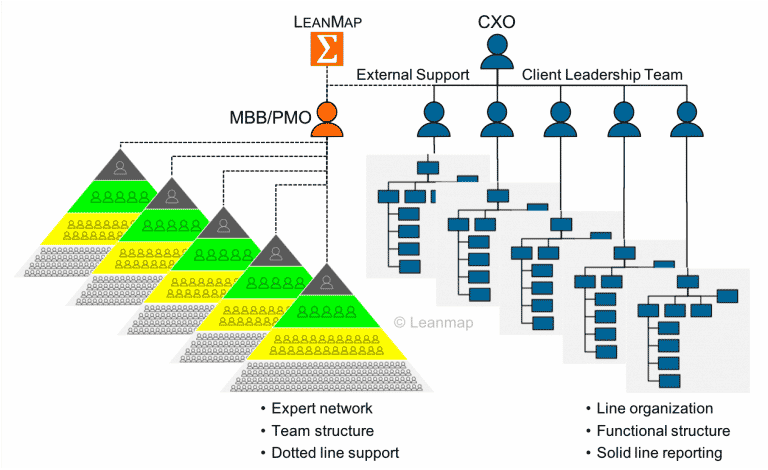 The Skill Pyramid is a professional support structure that allows people to connect with each other, exchange experiences, develop new ways of working, and provide expert knowledge and coaching support.
For example, a customer service agent who is working on a Yellow Belt project receives support from an accountant, who is a certified Green Belt and worked on a similar project before.
Leanmap helps clients to design and implement such professional support structures to build and leverage expert-skills across functions, divisions, and sites.
As Master Black Belt (MBB) or Project Management Officer (PMO) we ensure that the program delivers the desired change and impact.
Course Examples: 4000+ Graduates from 20+ Countries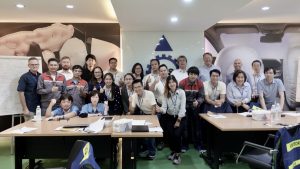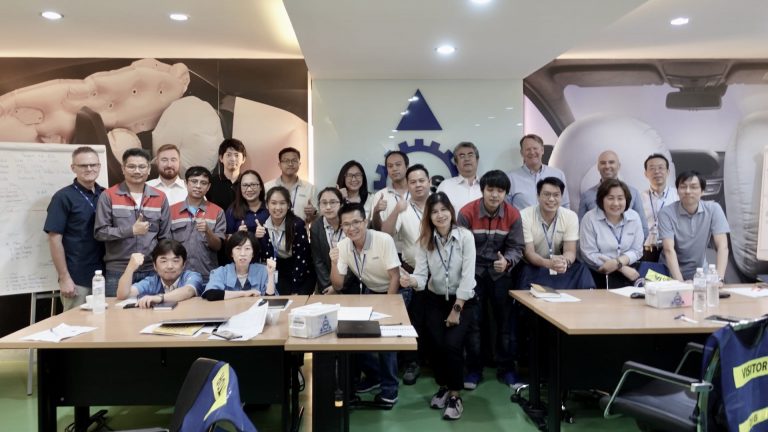 Building problem-solving skills to systematically identify cause-effect relationships and effectively eliminate underlying root causes. By doing so, costly product and process failures are being prevented.
View Details »