Systematic problem solving is a foundational skill for everyone, addressing performance and behavioural problems to boost safety, quality, reliability, and customer satisfaction. Our problem solving courses build robust skills and provide ready-to-use tools and templates, so that you can quickly learn the principles and start solving problems in a structured and effective way.
Problem Solving Courses for Beginners to Experts
Why Did the Titanic Sink?
When Using Formal Problem Solving: 13 Reasons
Undesirable condition
Deviation, defect, failure
Safety accident, incident, major risk
Product failure due to strength, performance, reliability
Line stop event
Regulatory non-compliance
Customer dissatisfaction or request
Cost overrun
Equipment breakdown
Process failure
Behavioral issue, noncompliant, disengaged
Repetitive or transferable problem
Detection failure
The 3 Levels of Problem Solving: What, How, Why
Level-1: "What" – The Symptom
Physical reasons of the failure that can be sensed, observed, or measured. For example, the technical explanation why something broke or failed.
Level-2: "How" – The Direct Cause
Human error or omission or commission that resulted in the physical root. For example, someone did something wrong or did the wrong thing.
Level-3: "Why" – The Root Cause
Deficiencies in the management system, thinking, or approach. For example, flaws in systems or procedures that allowed the human error to continue unchecked.
Quick fix
Fire fighting
Going from crisis to crisis
Stagnant or declining performance
No time for deeper analysis
Look for the guilty party: "Who did that?"
Jumping from problem into actions
Generate laundry list of actions to firefight symptoms
Sub-optimizing one area, spot scope
Focus on lagging metrics (yield, sales, profits) and hope processes will improve as a result
Systems thinking
Continuous improvement
Systematic root cause elimination
Better performance after each problem
Allocate time to analyze, dialogue, conclude
Seek deep understanding: "How did that happen?"
Acting after understanding cause-effect relationships
Addressing all factors of the failure tree
Optimizing the value stream, enterprise scope
Focus on improving processes (capability) that effect actual performance metrics
Online Courses to Build Essential Problem-Solving Skills
To get started with formal problem solving, take the White Belt course (2 days) or Basic Problem Solver course (3-5 days), building foundational skills to solve basic problems. For anyone already experienced in systematic problem-solving, take the advanced course (5-10 days) or expert course (10-20 days).  
Problem Solving Course: How to Build Skills and Benefit from New Knowledge
How it works:
The Problem Solving Course consists of three parts: training, solving, certification. During the training session, participants learn proven tools and techniques, such as PDCA, 8D, DMAIC, FTA, RTA. Right after the training, the learning is immediately applied to address an actual problem (e.g. repeat issue or major failure), strengthening skills and creating real impact. Once root-causes have been removed, students present their solutions during the case review (onsite course) or upload their coursework for review by the trainer (online course). Upon successful completion, students leave the course as Certified Problem Solvers.
How long it takes:
The time to invest for a Beginner Problem Solver is 2 days over a 1-month period. For an Intermediate Problem Solver it is 5 days over the same timeframe. An Advanced Problem Solver requires 10 days effort during 2 months, and an Expert Problem Solver is certified after spending 20 days over a 4-month period to solve a complex, multi-factor problem.
Who is involved:
There are three roles to be assigned: sponsor, student, and trainer. The sponsor initiates the program, allocates resources, and provides context, such as unhappy customers, excessive losses, or repeat issues hurting the business. The student invests time to analyze the problem, identify causes, and implement solutions. The trainer leads students through the program and provides coaching feedback.
What you can expect:
Certified problem solvers are able to address severe and persistent problems, reducing danger, defects, delays, disconnects, and non-performance costs (NPC). By doing so, they not only create tangible benefits for the business, but also improve customer satisfaction and teamwork from joint problem solving.
How much it costs:
Any severe or repetitive problem that is permanently solved makes a positive contribution to the bottom line through the reduction of non-performance cost (NPC). Tuition fees range from $99 for a Beginner course, up to $1,999 to become a certified Problem-Solving Expert. Assuming skills are actually applied and root-causes effectively addressed, our Problem Solving Courses are not only self-funding, but return a 5-10x benefit over tuition fees, making it a profitable investment in people and business. 
Watch Tutorial to Learn Principles and Tools
Problem Solving Body of Knowledge
PDCA problem solving process
8D problem solving process
5-Why root cause analysis, single and multi-factor
5-point root cause check and 3-point test
Problem statement – best practices
Root cause analysis – best practices
Actions to contain, correct, prevent
Failure Mode & Effect Analysis (FMEA)
Fault-Tree Analysis (FTA)
Reality Tree Analysis (RTA)
Statistical probability, risk priority, defect level
20-point checklist to assess solution effectiveness
Criteria for process completion and case closure
Practical application examples and learning cases
How Do Leaders like Airbus, Boeing, Rolls Royce, Toyota Solve Problems?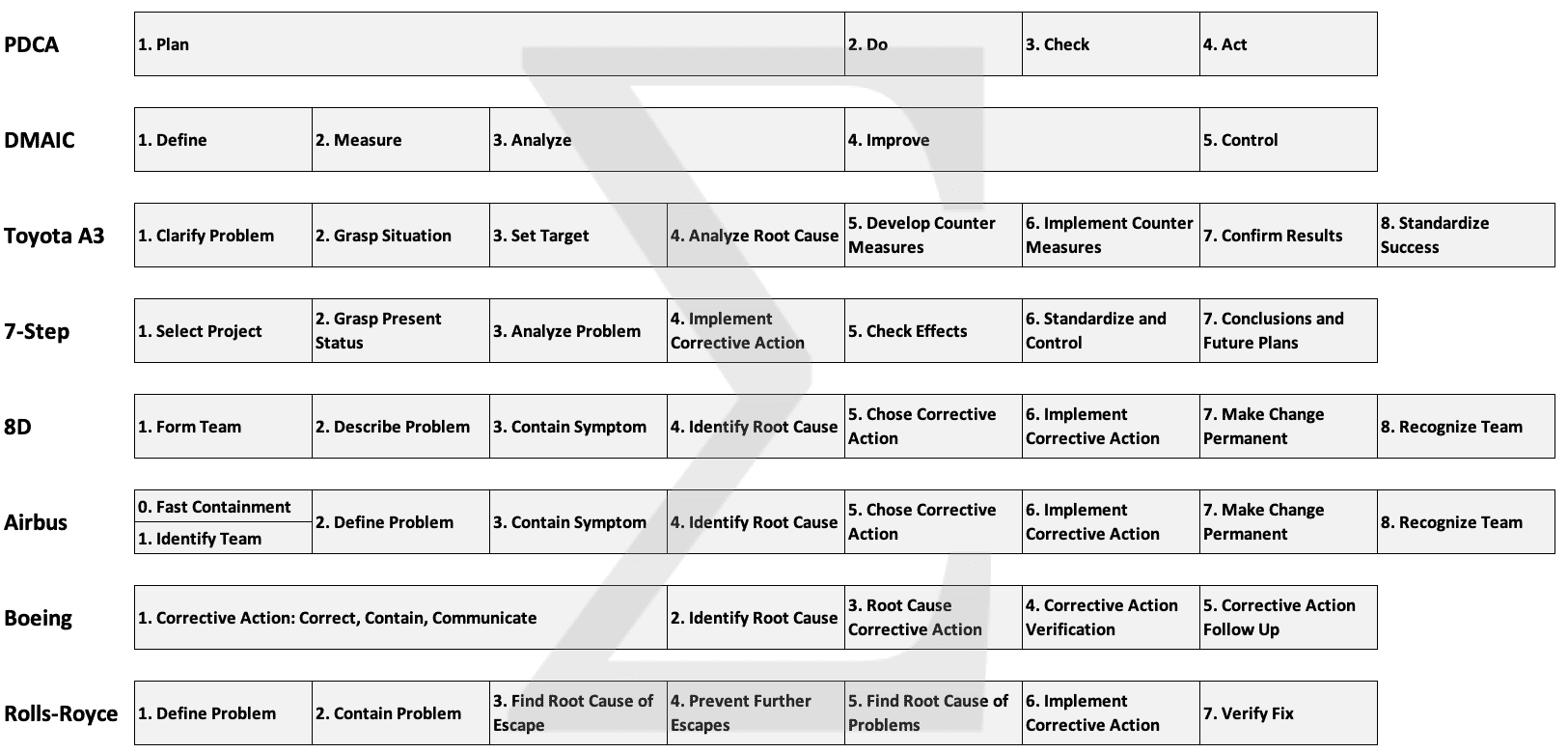 Selecting the Right Process for the Right Problem
When embarking on systematic problem solving, it's important to chose the right approach. Applying a big tool for a small problem wastes time, while addressing a complex problem with a simple tool will not be effective. The optimal choice depends on the type of problem that needs to be solved. Here an overview of the top-four problem solving processes by scope, steps, timing.
Popular Problem Solving Processes
Most common problem solving processes are PDCA, DMAIC, A3, 8D:
PDCA: plan-do-check-act is the the classic process
DMAIC: define-measure-analyze-improve-control
A3: Toyota's solving and improvement template
8D: the eight disciplines of problem-solving
3W: what-who-when "quick fix" (not shown in graph)
Which Process for Which Problem?
The following four questions help selecting the best solving approach:
Is the problem small, medium, or large?
Is the solution obvious or unknown?
Is the problem reoccurring or a single incident?
Single cause or multiple causes to address?
Does the problem require statistical analysis?
Common Problem-Solving Processes: 3W, PDCA, A3, 8D, DMAIC
At their core, all scientific problem-solving methods follow a similar logic: define the problem, analyze the problem, identify causes, take action, and evaluate impact. For example, the PDCA planning phase covers the first three steps of DMAIC and the first five steps of A3 and 8D. 
3W: When the problem is small and the solution is obvious, a formal analysis is not required. The 3W-method defines What to do, Who to do it, by When. This "Quick Fix" is commonly used for daily white board meetings to contain or correct a small problem.
PDCA: The Deming or Shewhart cycle "plan-do-check-act" is the classic method, used by over 80% of companies that practice systematic problem solving. PDCA is most effective for medium-size problems that can be solved within a few days or weeks.
A3: The A3-report, developed by Toyota, is an 8-step improvement and problem-solving process that fits on one sheet of paper. The A3-report is most effectively used for medium-size problems or projects to be implemented within a few weeks.
8D: The eight disciplines (8D) are commonly used in automotive and the problem-solving process (PSP) in avionics. Both methods are very similar, using 8 steps with focus on a fast reaction to complaints, completing the first three steps in three days.
DMAIC: The 5-step Six Sigma process "define-measure-analyze-improve-control" is ideal when solid data are available. DMAIC is mainly used to structure larger projects and solve complex problems that require statistical analysis and several months to complete.
Use PDCA Template to Solve Simple Problems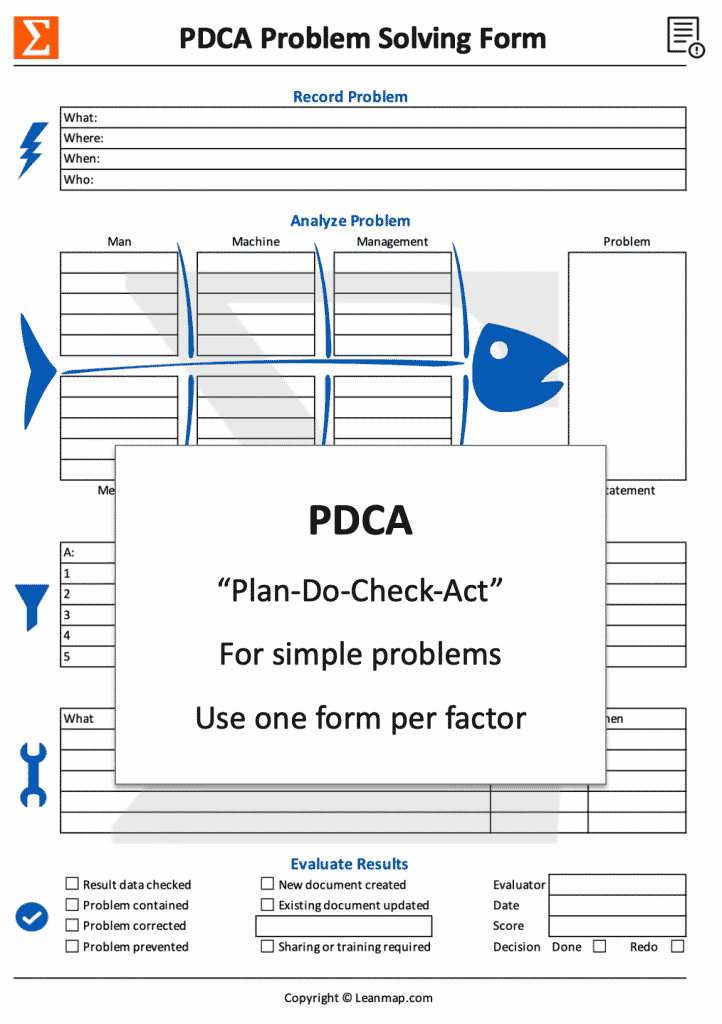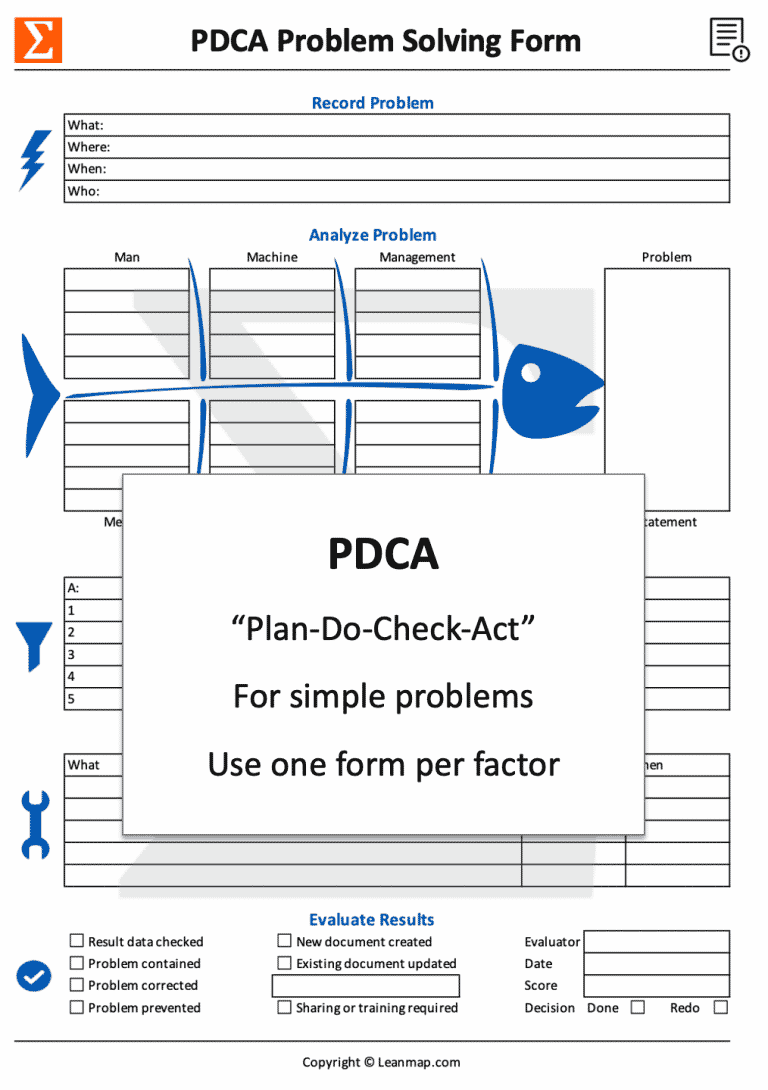 How to Solve a Problem with PDCA
Record Problem (Plan-1): Describe what happened, where and when, and who is involved solving it.
Analyze Problem (Plan-2): Assign potential causes to categories: Man, Method, Machine, Material, Management, Milieu (Environment).
Identify Causes (Plan-3): Ask "why" to drill down to root causes; for complex problems, use several forms, one per issue.
Implement Actions (Do): Create and implement an action plan to contain, correct, and prevent the problem from reoccurring.
Evaluate Results (Check) and Close Case (Act): Review impact, standardize solution; close case or initiate further actions.
Use 8D Template to Solve Complex Problems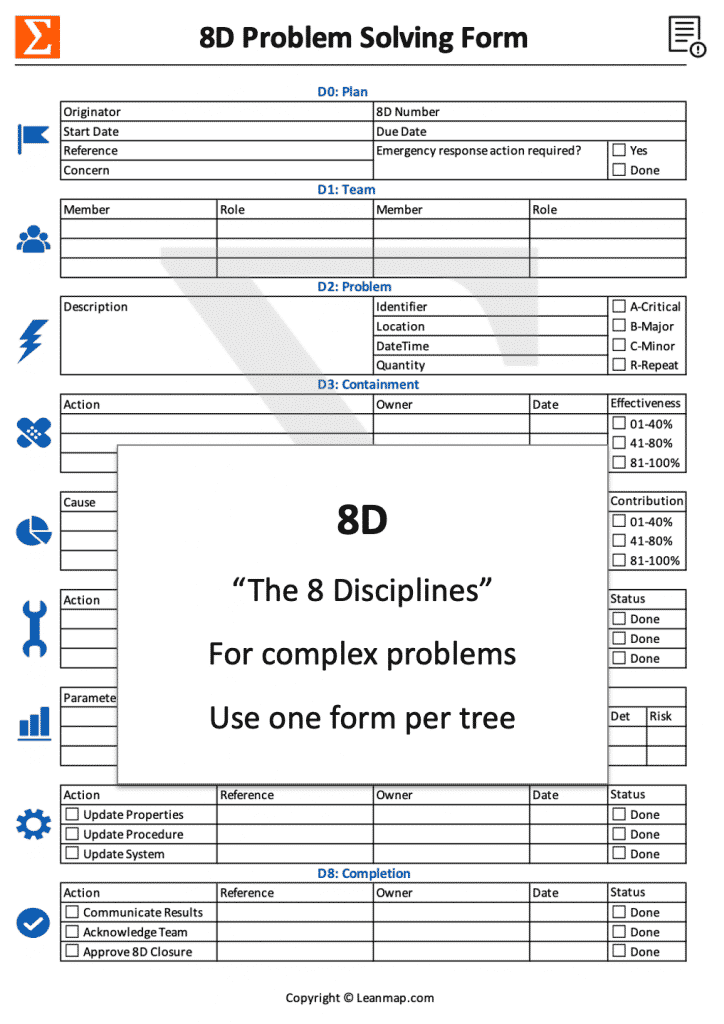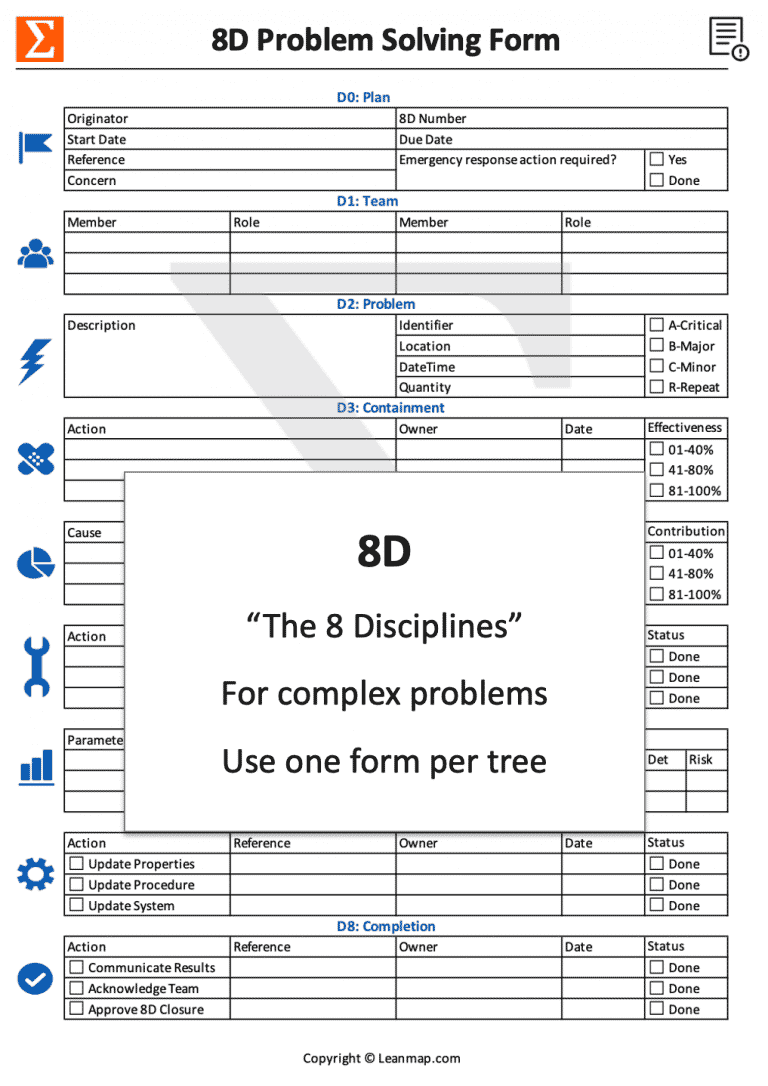 How to Solve a Problem with 8D
D0 Plan: Register problem and define emergency response.
D1 Team: Identify team members to address the problem.
D2 Problem: Grasp the situation and describe the problem.
D3 Containment: Prevent the problem from spreading.
D4 Diagnostics: Identify direct causes and root causes.
D5 Correction: Define and prioritize corrective actions.
D6 Validation: Implement actions and evaluate effectiveness.
D7 Prevention: Systemize solutions to prevent reoccurrence.
D8 Completion: Transfer knowledge and recognize contributors.