Assessing Manufacturing Maturity:
The Lean Factory Audit (LFA) is designed for manufacturers and logistics companies, processing physical items or turning them into higher value goods. The audit requires answering 126 diagnostics questions, which takes around 2-3 hours. As a result, you will receive the benchmarking report via email right after completing the questionnaire.
To do the audit, you must be registered and logged in.
Manufacturing Process Matrix
The factory audit is suitable for all five manufacturing configurations: 
Projects (X): producing one of a kind in flexible line flow, such as construction, building a pipeline or engineering a spacecraft 
Job Shop (A): processing similar jobs in jumbled flow, such as print shop, tooling shop, repair shop, custom furniture work shop
Flow Shop (B): processing batches in disconnected line flow, such as producing bread, shoes, garment, medical devices
Line Flow (C): repetitive manufacturing in connected line flow, such as assembly of computers, cars, tires, toys
Continuous Flow (D): uninterrupted production of a single product, such as cement, steel, beer, paper, oil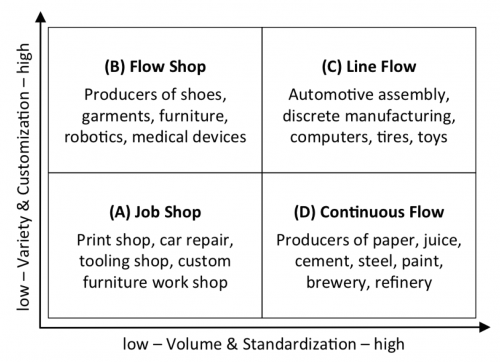 The 20 Keys to World-Class Manufacturing
Costing and budgeting, process and system
Efficiency management and resource planning
Inventory amount and management system
Layout, distances, communication, ergonomics
Leadership and policy deployment process
Maintenance and asset management
Management, priority setting, decision making
Metrics and performance measurement
Quality level, process capability, yield
Readiness, willingness to change, flexibility
Renewal, innovation and improvement
Service level, internal and external customers
Solving, root-cause analysis and elimination
Standards, policies, procedures, instructions
Structure, organizing and housekeeping, 5S
Teamwork, cooperation and coordination
Technology, equipment, computers, systems
Time management, deadlines, commitments
Training, capability building, skill flexibility
Visuals, status signals, visual management