Assessing Service Maturity:
The Lean Office Audit (LOA) allows benchmarking professional service organizations, such as engineering, commercial, accounting, education, and business administration against world-class references. It helps you define the current reality (good & bad), reveal new insights, and provide direction for improvement efforts. It works as a measuring stick towards the ideal state. After answering 119 questions, you will receive the maturity score and audit report. Please note that you must complete the entire audit in a single session, do not log out until you answered all questions, which takes 2+ hours.
The process matrix organizes service processes by labor intensity and customer interactions. The Lean Office Audit (LOA) can be used for any service business, while it is most effective for entities and teams operating in an office environment, adding value through analysis, design, advice, or control.
Business services such as consulting and financial service
Trade services such as retailing, maintenance and repair
Personal services such as restaurants and healthcare
Public services such as government and education
Infrastructure services such as transportation and communication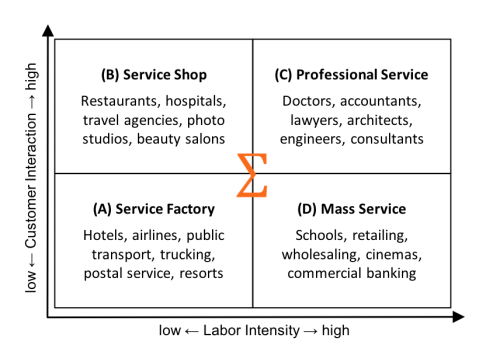 The 20 Keys to World-Class Service (WCS)
The Lean Office Audit (LOA) benchmarks service operations, assessing maturity level around twenty categories ("The 20 Keys"). 
Costing and budgeting, process and system
Efficiency management and resource planning
Information management and system
Layout, distances, communication, ergonomics
Leadership and policy deployment process
Management, priority setting, decision making
Metrics and performance measurement
Quality level, process capability, yield
Readiness, willingness to change, flexibility
Renewal, innovation and improvement
Roles, responsibilities and ownership
Service level, internal and external customers
Solving, root-cause analysis and elimination
Standards, policies, procedures, instructions
Structure, organizing and housekeeping, 5S
Teamwork, cooperation and coordination
Technology, equipment, computers, systems
Time management, deadlines, commitments
Training, capability building, skill flexibility
Visuals, status signals, visual management